If you are ready to become a homeowner, now is the time that you need really, really good advice!
Whether You Are Excited or Terrified, or a Bit of Both!
At Willowlace Ltd, we want you to be well-informed buyers, with information which will help you through your lifetime of being a homeowner.
We will take the time to ensure that you know the pro's and con's of the different elements of your mortgage, so that you can make the right decisions for you. Sadly, you won't get this help and advice from a bank direct!
Whilst there are lots of options to get onto the ladder for First Time Buyers, it is important that you have a Mortgage Broker who can help you understand and compare all the options which are available to you.
There is a lot of jargon in the mortgage market, so please refer to our Glossary if you are unsure of any of the terminology.
1. You Have Saved a Deposit
For most First Time Buyers saving for a deposit can be quite a struggle, particularly if you are renting, but some of our First Time Buyers have managed to do just this! The more deposit you have available, the lower the Loan to Value which will give you access to lower rates of interest and more products.
2. Professional Mortgages
There are some lenders who are more generous for young Professionals. So, if you are a doctor, accountant, solicitor etc then you may have access to these products.
This can come in the form of a monetary gift, acting as Guarantors, owning the property with you, standing on the mortgage but not on the Deeds, or putting funds into a savings account with a Lender in case you don't make your mortgage payments.
Debbie was extremely enthusiastic and dedicated to finding us a mortgage that suited our unique situation and one which met our needs.
She approached us in a friendly and understanding manner which made our first experience of buying a house as painless as possible.
4. Mortgage Guarantee Scheme – 95% Loan to Value
(1st April 2021-31st December 2022)
Designed to support a new generation in realising the dream of home ownership, the Scheme was launched on 1st April 2021, the new scheme should increase the availability of 95% loan-to-value (LTV) mortgage products, with the Government providing an element Guarantee to the Lenders.
We know how difficult it is to save for a deposit and this new Scheme should enable more people to access mortgages without the need for prohibitively large deposits.
The Scheme is open to Buyers ONLY, whether First Time Buyers or Movers, up to a maximum purchase price of £600,000.
Also remember that in order to qualify it must be your ONLY and MAIN residence and you must not have any interest in any other property, such as a second home or BTL.
The Scheme will be available until 31 December 2022, with participating lenders offering 95% mortgages under the Government Guarantee.
Whilst several High Street Lenders have already opted in to the new scheme, we at Willowlace expect affordability and other criteria to be more stringent than at lower loan to values, and we expect the rates of interest to be significantly higher than at lower loan to values.
We believe that getting good advice from Willowlace around these new products is absolutely critical to buyers, and we are well positioned to provide you with more advice than a High Street Lender.
5. Help to Buy New Scheme - First Time Buyers Only - April 2021-March 2023
A new help to buy scheme will run from April 2021. It is restricted to first time buyers only, it must be a new build property and it includes a regional price cap to ensure the scheme reaches the people who need it most.  The new scheme will run from April 2021 to March 2023.  The government will lend buyers up to 20% of the cost of a newly built home and up to 40% in London.
Map showing regional areas and price caps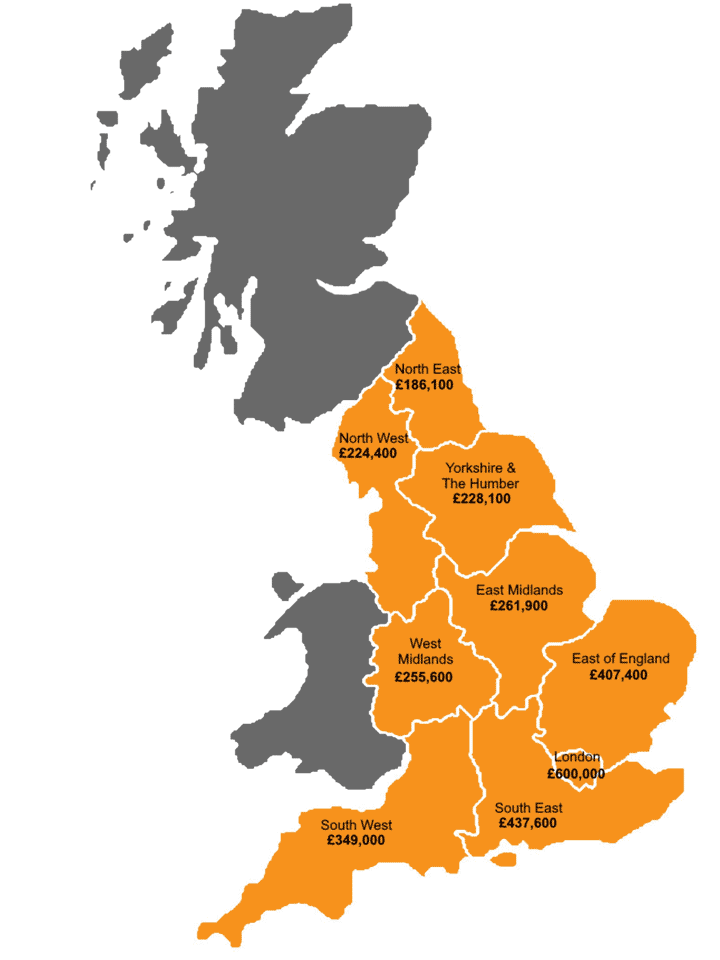 Shared Ownership is a way to buy a share of a property in which you wish to live. You will need to contact the Housing Associations which offer Shared Ownership, and register with them so they can check you are eligible, but you are free to use your own Mortgage Broker.
You buy between 25% and 75% of the property from a Housing Association, and you rent the rest of the property, paying this to the Housing Association on top of your mortgage payments.
You can buy more of the property later on, but the price will be based on the market value of the property at the time you wish to do this.
Affordability will be calculated based on both your mortgage and rent payments.
When you come to sell your home, the Housing Association has the first option to buy it from you. Even if you own the property 100%, the Housing Association retains this option for 21 years.
www.helptobuy.gov.uk/equity-loan/find-helptobuy-agent
7.Discount Market Sale Scheme also known as Council Shared Equity Scheme
This is a low cost home ownership product where you can buy a new build or existing property at a discounted price from a local council which is participating in the scheme in collaboration with developers (who are often Housing Associations).
The discount is usually around 20%, but it can be as high as 50%.
Some people describe DMS as 'shared ownership without the rent'.
A restriction is place on the property's Land Registry Title to ensure that the property remains at a discounted rate in perpetuity for future purchasers. Some Council's may allow you to Staircase (to buy the discounted part of the property), but please check this carefully with your local Council and with your solicitor.
There are some circumstances where the Stamp Duty payable is only on the purchase price and not on the full market value, but always check the most up to date criteria with your solicitor.
You can sell your home when you wish to, but you do have to notify your local authority in writing of your intention to sell, which is known as an Availability Notice (available on your local council's website), but The DMS scheme is part of the Low Cost Home Ownership scheme so prospective buyers themselves must be eligible in the way that you were (so this will restrict the resale of your property.)
8. FIRST TIME HOMES SCHEME
(As at 1st April 2021 this scheme is still in Consultation)
The new scheme will be designed to help local First Time Buyers and Keyworkers onto the property ladder, by offering homes at a discount of 30% compared to the market price.
Other Useful Resources for First Time Buyers
If you opened an account prior to 30th November 2019, this can be a great boost to your savings.  This won't be available to new savers after 30th November 2019. (see Lifetime ISA below.)
Investigate the details here: www.helptobuy.gov.uk/help-to-buy-isa/how-does-it-work
If everyone who is party to the mortgage is a genuine First Time Buyer (ie have never owned a property anywhere in the world), then there you may benefit from a reduction in Stamp Duty, or there may be no Stamp Duty to pay whatsoever.
This is available to help you save for a mortgage deposit to buy a home.
Investigate the details here: www.gov.uk/lifetime-isa